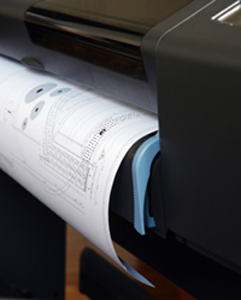 Architectural and Engineering Drawing Copying and Distribution needed? You have come to the right place! Sterling Printing has been working with the Architectural, Engineering, and Construction community for over 30 years. We understand the time restraints. We excel at meeting and beating deadlines!
We have been one of the foremost provider of reprographic services on the Northshore and offer copying and printing of engineering and construction plans and spec books in Stoneham, Woburn, Winchester, Lynnfield,  Reading, North Reading, Wakefield, Melrose, Somerville, Medford, Malden and Boston, MA. No one will beat our service! But we will also beat the pricing of your large box store. Support your local print shop and save money in the process!
For architectural drawings, blueprints and construction plan copying, send us your files or bring it by on a flash drive and we'll have your paper or mylar copies made in no time. Alternatively, bring us your originals and we can copy those, give them to you as a .pdf file or both. Located right on Main Street in Stoneham and conveniently accessible from both Rt 93 and 128, we are favorite of local construction companies and architects.
Former Service Point customers - WELCOME!
Architectural and Engineering Drawing Copying

Architectural and Engineering Drawing

We will scan, name, convert, and keep on file

Tell your customers to call, email, order online, or fax in orders directly to Sterling Printing.
Contact Us