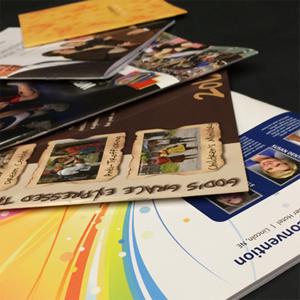 A business brochure is a great way to communicate key messages to your audience about your products and services. We serve local and regional clients who are looking for professionally produced print brochures and digital brochures. In addition, our brochure folding options include (but are not limited to):
Bifold brochures
Trifold brochures
Quad-fold brochures
Gatefold brochures
V-fold brochures
Accordion brochures
Our experts design your brochure with your business in mind. Printed brochures help you establish credibility while conveying your service offering. Bring us your brochure project and we'll help you get the conversation started with your customers.

Don't have enough content to fill a brochure? Think about getting some flyers made instead.
Brochure printing has never been so colorful or precise. We provide brochures with crystal clear color and print resolution in a massive range of sizes, folds and custom options (see our instant calculator for custom size and fold quotes.) At NextDayFlyers, you can create the exact brochures you need for your product presentations, catalogs, menus, business messages, and marketing promotions.
Brochure printing at Sterling Printing is quick and stress-free. Our intuitive website is designed for easy upload and checkout of your brochures. It takes just minutes to choose your paper, size, fold, coating, and super-fast delivery times. We also provide free proofing choices to ensure supreme brochure quality.
Our brochures are available in:
5.5"x8.5" brochure
8"x9" brochure
8.5"x11" brochure
8.5"x14" brochure
11"x17" brochure
11" x 25.5" brochure
We also have 18 unique folding options to help you create the brochure that's just right for your business aims. Start yours today!
Brochure Printing Features
High-resolution offset and digital color
Choose from 100 lb. gloss paper, 80 lb. gloss paper, 70 lb. uncoated paper, or 100 lb. gloss cover
Add high gloss UV to provide extra protection and durability
Available in the following sizes: 5.5"x8.5", 8"x9", 8.5"x11", 8.5"x14", 11"x17" and 11" x 25.5"
Fast and convenient brochure turnaround, same day, next day, 3 day
Benefits
Super-easy upload, confirmation and order process
Our experts proof all your brochure files before production
Best shipping record in the business – 99.8% on-time delivery record
Superior results thanks to our 10-checkpoint quality assurance

Brochure Printing and Marketing Tips 
A Guide to Brochure Sizes and Uses 

We supply a range of brochure sizes for your business marketing. You are not limited to one kind of brochure with one kind of fold. To help you choose the right kind of brochure for your business needs, here is a short list of brochure styles, sizes, folds and business uses. 
 
 2 Panel Bi-Fold Brochures
Our 5.5" x 8.5", 8" x 9" and 8.5"x11" brochures are available as bi-fold promotions. They fold like the opening and closing of a page of a book. This brochure style gives you a lot of design space to work with and enables you to include larger images on each page. Used by businesses as a mini-booklet or a quick guide to products and services, it fits many presentation purposes. They are used in particular for business to business marketing at conferences and for point of sale promotion in medical offices and financial institutions.  
Bi-Fold
Among the many companies who use bi-fold brochures are:
Real Estate Agencies
Used by real estate agents to list single or numerous properties, the multiple-page format allows realtors to present detailed photos, floor plans, pricing, and other property information. 
Healthcare and Medical Providers
Used by healthcare providers, hospital groups, and other medical organizations to explain health issues, procedures, and medical plans. 
Non Profit
Used by charities, religious groups, and other non profit organizations to provide information for causes and to grab people's attention with big, powerful images. 
Political Organizations
Often used by political groups to communicate their message and manifesto in the most impressive manner.

3 Panel Brochures
Our 3 panel brochures are all 8.5"x11" in total size. Folding into 3 sections, they transform into a handy size for adding to promotional packages and putting into envelopes to send with correspondences and direct mail promotions. Three panel brochures are a practical solution for passing on detailed information about your company. The 3 panel style enables you to split detailed information about your business or organization into 6 smaller chunks for easy reading. 
 
Our 3 panel folds include: 
Tri-Fold Brochure, right panel folds underneath the left and fold to 8.5" x 3.66".
Great for a page by page story like presentation of your company. 
Z-Fold Brochure, panels fold on top of each other, and folds to 8.5" x 3.66".
For easy-opening and quick-viewing. 

Gate-Fold Brochure, two ends fold inwards and meet in the middle and folds to 8.5" x 5.5".
Gives you a wider brochure size and allows for a large, high-impact central panel design feature. 
 
Three panel brochures are the most common style of online brochure printing and are used by all kinds of businesses. The following businesses particularly rely on them for their marketing campaigns: 

Restaurants 
Used by restaurant owners for takeout menus, 3 panel brochures of all styles are turned into sectionalized menus to separate starters, entrées, and desserts into distinct easy to follow sections. They are used for both in-house and direct mail promotion. 
Leisure and Tourism 
Three panel brochures are used a great deal to promote day trips, amusement parks, museums, theatres, golf courses and hundreds of other businesses in the leisure industry. Placed in hotels, train and bus stations, and other public areas, they are a vital way to connect with people looking for fun and entertainment. 
Financial and Investment
Often used by banks and financial companies for presenting account information, graphs, charts, and other messaging. 
 
Four Panel Brochures 
When you need that extra bit of room to perfect your informational brochures, then a 4 panel brochure represents the perfect solution. Especially useful for promoting multiple products as a product catalog, or as an event guide, a 4 panel brochure allows you to communicate a lot of information in a compact space. 
 
Our 4 panel folds include: 
Parallel Map Fold - folds in half to form two folded panels, one folds inwards and the other folds away-from-center, folds to 8.5"x3.5". 
Double Parallel Fold - folds in on itself from the center, folds to 8.5" x 3.5".

For easy-opening and quick-viewing. 

Accordion fold - folds in on itself from the outer panel, folds to 8.5" x 3.5". 

Use 4 panel folded brochures for the following:
Event Companies and Event Promotion 
Folding into a map of the festival or event grounds, a 4 panel brochure is the perfect solution for event guides.
Museum Guides
Perfect for museums guides to extensive collections, it allows for cataloging detailed history and information.
Retail Stores 
Jewelry stores, clothing stores, and all other retailers with multiple products to sell will benefit from the extra panel space. 
Education and Learning 
When dealing with complicated courses and training, the extra brochure panel comes in handy. 
Contact Us