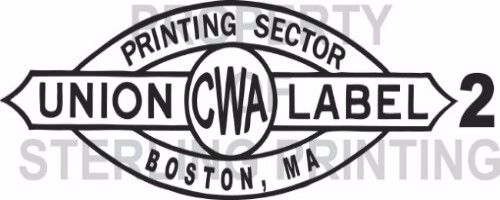 We are a full service UNION print shop affiliated with CWA and can put our union bug on anything we produce. Need to run your next political campaign? Come and see us and use our experience. We can print and mail your campaign literature, postcards, print banners/posters, yard signs, buttons and so much more.
We can design, print and mail your next project. We can also produce t-shirts and yard signs with our union bug. We strive to be competitive and will meet or beat most prices. Just give us a call.
we pride ourselves on our commitment to quality and over 30 years of service to business community in Greater Boston.  Our union bug will put an exclamation point on our commitment to a staff of dedicated professionals. As a union print shop with a union label Sterling Printing can help you show that commitment as well.
Request the union bug on your prints if you wish to show your support of 100% Massachusetts Labor and professional service. This is a great option for
Political Campaign Printing
State Agencies
City and Town Depts.
Colleges and Universities
Union Shops and Organizations
This union bug is property of Sterling Printing, and it is illegal to copy or download.