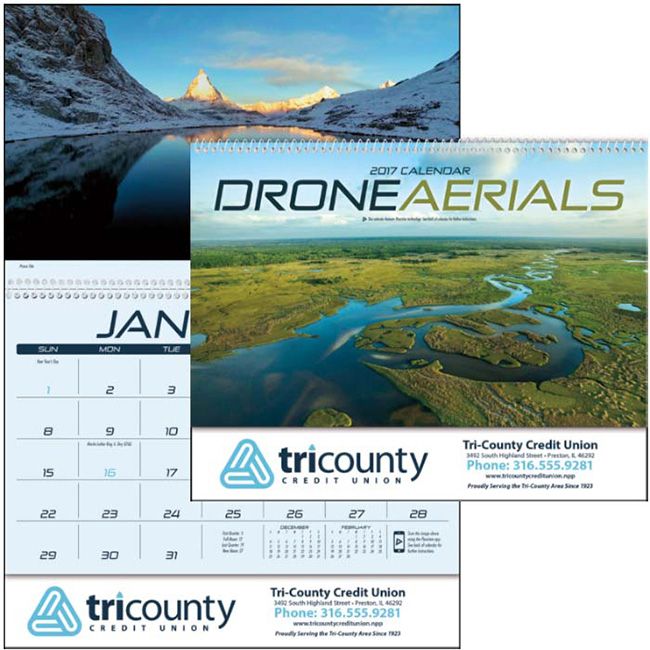 Keep your brand in front of customers' eyes with a custom full-color calendar. Calendar printing is a powerful way to make sure your company is seen by thousands of people each and every day.
Looking to liven sales? Plan a promotion for each month and incorporate it into your calendar design.
Build a calendar around your customer base. Highlight important dates and holidays specific to your customers to provide a valuable resource they can't live without.
Using full-color photos? Make them pop on premium glossy paper and cover stock!
A year's worth of promotions with Calendars
Calendar printing is a tried-and-true form of promotional marketing. Whether you intend to sell your calendars or give them away, order your custom printed calendars with Sterling Printing for the best in quality and convenient online service. We offer both full-page and half-page calendars printed on 100lb glossy book-weight paper stock. Folded and stapled calendars come with a 1/8 hole for easy hanging. 
You can print in full color on front and back, maximizing your ability to use photos and artwork. Our downloadable design templates make putting together your calendar design as easy as possible. 
Features:
Print quality full- and half-page calendars
Calendar printing on 100lb glossy paper
Custom printed calendars come in full color
Next-day, 3 or 4 business days print turnarounds
Marketing Tips 
Calendars are supremely functional, which is why they're great as promotional items. Everyone needs calendars, including your customers, clients, patients, enrollees, or members. Half-page and full-page custom printed calendars provide you with a sizeable canvas to work with, as well as numerous opportunities to personalize the design with your logo, photos, and artwork. 
Whether you're a business, non-profit, educational institution or professional association, calendar printing can help you stay top of mind with your audience 365 days a year. Here are just a few business types that can benefit by offering their own custom calendar:
Automotive repair
Dry Cleaning
Nightclubs
Real estate
Hospitality
Private schools
Dentistry
Theaters
Photos are a key part of calendar appeal, so you will want to give some thought to your photo or artwork choices. How you decide to make those choices will depend on your goals as an organization. For example, if you work in a business such as real estate or automotive repair, you might choose photos of houses or cars, respectively. 
Regardless of your business type, it's a good idea to think about how you can introduce a local component to your design. For example, a real estate agent would want to showcase residences in the community they serve. Perhaps photos of historical homes or architecturally-significant houses would be a good choice. 
You can also include people in your photos to add local interest. Using a staff photo is a great way to personalize your calendar and advertise your business. If your business is a nightclub or theater, you may want to use promotional photos of acts that have performed at your venue in the past. This is an easy way to include photos your customers will want to look at year-round.
Contact Us