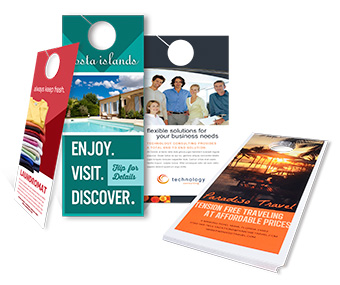 Door hangers are a unique way to catch a potential prospect's eye in a place where they aren't expecting it. Because door hangers must be removed from the doorknob, they are likely to be read and make an impact that lasts longer then a simple glance. 
Add a valuable tearaway coupon or easy-to-save business card by including a two-inch perforation at the bottom of your hanger.
Door hangers are perfect for promoting new products and services, limited-time offers, or bringing attention to your business in a new sales area.
Add extra insurance from the elements with a durable aqueous coating.