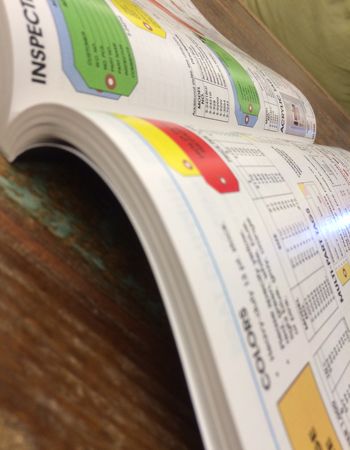 Your business has a lot to offer and there's no better way to sell multiple products and services than by putting them in a high-quality catalog. Let our staff of experts entice your customers or other businesses by showing them the products and services you have to offer. We're the catalog printer you've been looking for.
Get the word out about your business with:
Business-to-business catalogs
Business-to-consumer catalogs
Digital catalogs
Retail catalogs
Supply catalogs
Want to focus on a particular item or service? Send a postcard for a targeted marketing push.
Full Color Catalogs that shows excellence in your products
Get catalogs in 3 different sizes for the most successful promotional campaigns. Use them for direct mailing and sales handouts to showcase your products and services. Use Sterling Printing for your catalog printing and receive consistent quality every time! Whether you're creating gift catalogs, clothing catalogs, business catalogs, or price guides, we can provide your company with full color catalogs that burst with color and clarity - displaying your products to the fullest.
We offer a wide variety of catalog printing options for sizes, number of pages, and quantity. We also use high-tier paper stock and coating options to ensure that your prints are not only durable but also visually appealing. Available as half-page, full-page, and landscape, you can create the most professional product for magazines, manuals, and guides. 
With our intuitive website and user-friendly tool, you can upload your design today and get through the process as fast as possible. And with our next day turnaround options, you won't have to wait long for them! 
Features:
100lb and 80lb glossy bookweight paper and 70lb uncoated opaque paper
High gloss UV coating (optional)
8 to 96 pages
Self-cover (same paper used for cover and inner)
Marketing Tips 
Designing multi-page documents is tricky. If you plan to design your own catalogs, here are 5 general rules as a starting point: 
Make an Eye-Catching but Relevant Cover
Make your cover reflect the products or services you are offering. Make it eye-catching but be relevant. If you're selling vacuum cleaners, put a high-resolution product shot of your top seller on the front. Better still, use an image of the vacuum cleaner in action with pictures of delighted customers utilizing it.
 
High Quality Images Make High Quality Catalogs
Use high-quality images only. You will not do your product or business any favors by using inferior images. 
 
Clear Eye-Path Design
Create clear focus using lots of white or negative space. Don't overcrowd your pages with too much text and imagery. Be sensible and conservative with your layout and have a thumbnail plan of the pages and layout before you start any digital design.
 
Text Design
The same goes for all your text design. Make sure you break up text with subheads, paragraphs, and bullet points to present your information in easily-readable chunks. Use tried-and-tested fonts such as Helvetica, Antique Olive, Century, and other classic fonts to ensure easy readability.
 
Correct Design Program
For the best results when designing a multi-page document, we suggest you use desktop publishing programs such as InDesign that were created for magazines and booklets. Photoshop and Illustrator are adequate programs but have limitations as far as creating multi-page artwork.
Contact Us