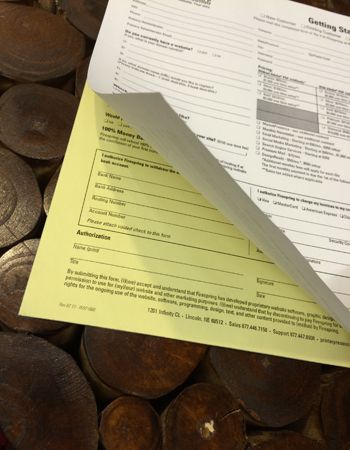 Upgrade your business's image with designs for purchase orders, invoices, business forms and other carbonless forms. Look no further than right here. Creating business forms can be a tedious process—we're here to make it simple. We offer up to six part carbonless forms with all options including but not limited to perforations, numbering, backside and multi-color printing.
Send your business form(s) in customized business envelopes. We'll do all the work for you.
Business forms for better record keeping
You can get your Carbonless Forms printed in common sizes: 4.25" x 5.5" (quarter page), 5.5" x 8.5" (half page), 8.5" x 11" (full page), and 8.5" x 14" (legal). You'll also have the option to choose between 2 part (duplicate), 3 part (triplicate) and 4 part (quadruplicate) forms. Back to back printing, sequential numbering and padding are optional. Print as low as 250 or as much as 10,000 forms, and will be ready to ship in 5 business days or less.
Create forms specifically for your business' needs while projecting a professional image to your customers.  To help you start your from design, Sterling Printing has made downloadable templates which can be opened for common design programs. These templates helps you make sure that your forms will have the right safety zone, color profiles, trim marks and file size. 
Features:
20 lb. Paper with multiple colored parts (White, Yellow, Pink and Gold)
For writing on or typing on
Optional padding  and sequential numbering
Black ink printing
Businesses that benefit from Custom Forms: 
Car Repair Shop
Contractor
Dry Cleaning Service
Financial Services
Electrical / HVAC
Real Estate Rental / Leasing
and a lot more
Contact Us