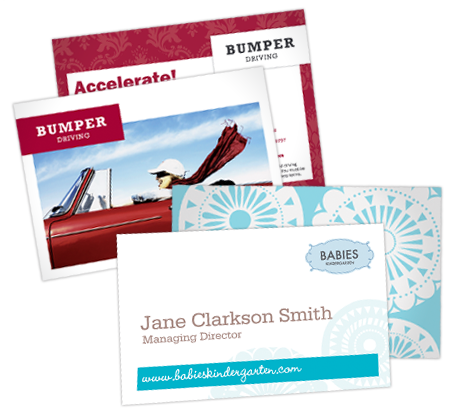 Small enough to fit in a pocket, yet versatile enough to use anywhere, your business card is the most important piece in your marketing arsenal. Get your business' name out there with custom, personalized business cards you'll be proud to hand out. You can trust us for all of your business card needs. From a basic black and white business card to an impressive, full color design—we'll give you the credible look that embodies your brand. Get the type of business card you're looking for:
Single-sided business cards
Double-sided business cards
Custom business cards
Embossed business cards
Glossy business cards
Metallic finish business cards 
If you need more than just a business card, we can create a corporate identity package with an integrated system of business cards, letterhead and envelopes. Call us or stop in and we'll get down to business.
You can also use the back of your cards for social media sites, website addresses, or even QR codes that use smart phone technology to instantly navigate to mobile websites, dial telephone numbers, or show people your business location. 
 
Don't use text that is too small 
We advise that you don't use any font size lower than 8pt on your business cards. Don't make it hard for your contacts to read your cards. 
 
Another way to ensure legibility is to use clear and precise fonts such as Helvetica, Garamond, Avant Garde, and Century. These fonts are classic examples of text that were designed for easy reading. Sure, you can use certain modern and fancy fonts, but not all of these are legible (especially at 8pt font size!) 
 
Use text and images wisely 
Simple is best. Don't try to make too many copy or graphical statements on your business card. Your business card is not a flyer. By all means add a short proposition or call to action, but don't add a hundred different sales slogans to confuse people! Use a strong logo for your business card graphic and you can't go wrong. 
The less text and imagery in such a small space the better. If you feel that you need to add extra info, consider using a folded business card to present extra information.
Use high-resolution imagery
Before you upload your business cards to Sterling Printing, make sure that your images look crisp and bright by designing in high resolution. If designing in Adobe programs, use one of our start file business card templates that are already prepped and optimized for print purposes. It is also advisable to avoid right clicking/saving random images on the internet for use in your print projects. Try to use stock sites and other high-resolution image sources for your inspiration and design imagery. If you are struggling to design your business card, use our online tool that includes some great business card templates for help with your graphics and messaging. 
 
Before setting up your business card design file, check the following essentials:
The size of your standard business card should be 3½" x 2" or 1050 pixels x 600 pixels. Your business card image resolution should be set at 300dpi and you MUST design your card in CMYK mode for print (not RGB web mode)
Your designs should always account for a "bleed area" around the design circumference to avoid cutting off important text or design elements in production (another great reason to use our start file business card template)
Another good rule of thumb to remember is: View your design at 100% magnification. If your image looks pixelated on-screen in a 300dpi environment, it will look even worse when printed! 
Present a professional image with your business card: Whether you're a small business owner or a corporate owner, you need to present an image of professionalism. Your business card should show people that you care about your company and your business appearance. It should give people confidence in you.
Cutting corners by using cheap business card inkjet kits or ordering your cards via "free business card" websites (where they print their own logo on the back) is detrimental to your business and your image. It makes you look like you don't care about your business appearance.
A quality business card, however, is one of the best investments you will ever make. Printing with a quality company like ours ensures that you impress customers and clients with a product that looks and feels professional. Don't compromise when it comes to your business cards. Make a memorable first impression with brilliant colors on thick paper stock.
Contact Us