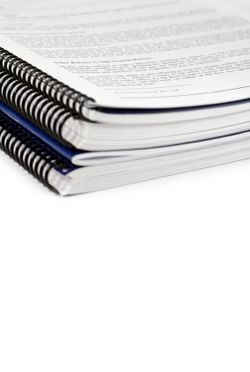 Sterling Printing has all of the resources—in house, to print, bind, store, and ship your books in both large and small quantities. For over 20 years we have been offering book printing services in Boston, Malden, Medford, Everett, Somerville, Reading, Wakefield, Woburn, Winchester and Stoneham, MA. Are you printing a textbook, town report, budget book, financial prospectus, bound galley, or the next best seller? Your project will be crafted with the utmost attention to detail and quality to ensure your satisfaction. And whether your product is produced in black and white or full color throughout, we will print to your exacting specifications and finish your project with the binding of your choice. We also offer special finishing effects such as film lamination, spot UV, embossing, foil-stamping, edge staining, and round-cornering to customize the look and feel and to increase the shelf presence of your book. If you don't have your book in print ready files, we can help you achieve by offering FULL TYPESETTING AND DESIGN SERVICES AT VERY AFFORDABLE COST.
Contact us today to get your book on the shelf!
Various kinds of finishing are available such as
Perfect binding or Spiral binding (both punching and comb systems)
Wire-O binding or Multiple hole drilling for loose leaf products
Shrink-wrapping (automated) or Paper banding
Round-cornering or Hand work (i.e. collation, insertion, kit building and custom fulfillment and drop-shipment related projects)
High Quality Booklets for Showcasing your Product/Portfolio
When it comes to high quality booklet printing at competitive prices, Sterling Printing is an easy choice. We offer full color printing of half-page portrait, landscape portfolio, and full page booklets to meet all of your printing and marketing needs. Our paper options, finishing and binding services, and page count choices will help you get your message out exactly how you intend.

Our fast and easy online ordering process takes only a matter of minutes. We offer quick turnaround times and guarantee your booklets will be at your door when you need them. We proudly offer 33 checkpoints of quality as well If you're not happy, we're not happy, and you'll get your money back if you're not satisfied. 
Booklets have a wide variety of promotional and informational uses, such as product catalogs, company magazines, event programs, and instruction manuals. Hand them out at meetings, attract new customers with a catalog of your products or services, distribute them to employees as a company handbook, or inform customers of the latest news at your organization with a magazine mailer. 

Features:
High image quality at a low price with offset booklet printing
Full color, double-sided printing
Folding and stapling at no extra cost
Booklets available in page counts of 8 to 96 pages
Choose 100lb, and 80lb glossy paper, or 70lb uncoated opaque paper
Uncoated paper can be written on with pen, pencil, or marker
Self cover or 100lb gloss cover (custom option)
Add extra durability with high gloss UV coating
Marketing Tips 

How to Choose the Right Booklet Size?
We offer a variety of size, paper, and page count options for booklet printing. Whether you need a booklet to promote your restaurant, realty business, hotel, school, church or non-profit organization, our quick turnaround options have you covered! Here are three things to consider before choosing a booklet size: 
Booklet Content and Layout 
Before choosing a booklet size, it's helpful to have your content written, proofread, and revised. Be sure to consider any accompanying images for your copy, as they take up a considerable amount of page space. You'll also want to have the layout of your booklet ready to go. Once this is done, you can determine the exact page count. Don't make the costly mistake of estimating the number of pages needed. You may later realize you don't have enough space in your booklet, or that you have too many pages. By having your content and booklet layout print-ready, you'll save yourself time and money. 
 
Budget 
Many businesses don't have an unlimited budget when they first get off the ground. If this rings true for you, consider your budget not only when determining the booklet's size in terms of dimensions, but also the number of pages, which can impact the final printing cost. If it's not necessary to use a heavy paper stock, you may want to use a standard paper that's just as high in quality. Think about the quantity of booklets you need and how often you may need to update the copy. If you feel your booklet only needs a one-time run, consider ordering in bulk; with offset printing, the price per piece decreases as the quantity increases. If you can anticipate the number of booklets you need now, you'll save yourself printing a second or third batch at a higher cost. 
 
Purpose 
The size of your booklet will depend on your industry and the purpose your materials will serve. For example, a half-page booklet on 70lb paper would be more appropriate as a playbill for a theatre production, but a luxury home realtor may prefer a full-page booklet on 100lb paper as a catalog to highlight their services and properties. A landscape booklet is a unique size that would suit creative professionals (such as photographers, graphic designers, or makeup artists) as a way to showcase their work. Smaller booklets are ideal for events or tradeshows because they are easy for people to hold and browse through during the event. 
 
Guide to Standard Booklet Sizes
Half-Page Portrait Booklets 
A half-page 5.5x 8.5-inch booklet is a great money-saving option. This particular size is convenient to hand out and is most commonly used as a program for school and community plays, church functions, sporting events, fairs, and even personal occasions. They're perfect for guests to leaf through before an event starts, and you can include information on sponsors, history of the company or organization, biographies, and more. Half-page booklets are also ideal for use as company handbooks, instruction manuals, product guides, self help or religious pamphlets, and hand outs at tradeshows and conventions. 
 
Landscape Portfolio Booklets 
The distinctive 8.5" x 5.5" size of landscape portfolio booklets makes them a favorite among creative professionals, but they are also great for small businesses looking to print a catalog of their products and services. They are great for travel agents to display vacation packages, for photographers and designers to use as a small portfolio, or for families who want a photo scrapbook to commemorate a family trip. Landscape booklets can also be a cost effective way for authors to print their short stories, children's books, or poetry collections. 
 
Full-Page Booklets 
Letter-size booklets measure 8.5" by 11" and allow you to showcase as a large amount of copy and many images. Many companies and non-profit organizations use them as end of the year magazines, finance and law firms use them as a prospectus to describe their services, and small business owners use them as catalogs. A high-gloss UV coating will give the booklet an extra luxurious look and feel, while 70lb uncoated opaque paper allow for pages that can be written on.
Looking for other booklet printing options? We also offer a variety of custom printing booklet options such as a 14pt cardstock booklet cover, bindery services (perfect binding, coil binding, loop stitching, etc.), finishing services, and more.
Contact Us